Camden Theological Library – New books for July 2020
What's New July 2020

New books for July 2020

Camden Theological Library has added a number of new books to our collection during the month of July. These books are now available for loan and are currently on display in the Library, near the circulation desk. Several of these books are highlighted below. A full listing of all new items can be viewed here.



Enacting a public theology
by Clive Pearson

The practice of a public theology is to identify issues that require attention for the sake of a civil society and the flourishing of all. In diverse ways the writers of Enacting a Public Theology recognise that the present is a volatile moment in time. The publication explores the loss of confidence in the contemporary expressions of democracy; the climate emergency accompanies the dawn of the Anthropocene; the migration of people raises concerns to do with identity, belonging and where is home; the invasion of land wrongly described as terra nullius and then invaded demands a deepened praxis of reconciliation between first and second peoples; and lastly there is an urgent need to speak into the situation of those pushed to the margins because of HIV/Aids.



Stained-glass millennials : coincidental reformers
by Rob Lee

We've heard the narrative that millennials are done with the institutional church; they've packed up and left. This book is an alternative to that story and chronicles the journey of millennials who are investing their lives in the institution because they believe in the church's resurrecting power. Through anecdotes and interviews, Rob Lee takes readers on a journey toward God's unfolding future for the church, a beloved institution in desperate need of change.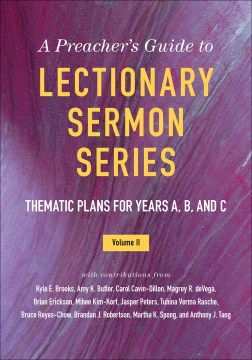 A Preacher's Guide to Lectionary Sermon : Thematic Plans for Years A, B, and C
by Jessica Miller Kelley

Both lectionary preachers and topical preachers will enjoy the best of both worlds with this second volume of sermon series ideas designed to frame consecutive weeks of lectionary texts into seasonal and short-term series. With contributors from seven denominations, this comprehensive resource offers new perspectives and fresh ideas for diving deep into biblical themes in ways that make congregants eager to come back for the next sermon and to invite others as well. Twenty-eight series plans include thematic overviews, sermon starters, and ideas for worship and outreach, honouring holy days and seasons and addressing typical patterns of church attendance to maximise visitor retention and member engagement.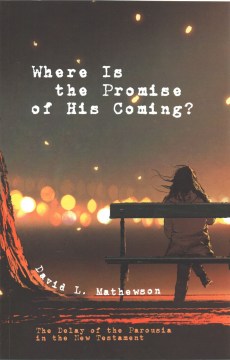 Where Is the Promise of His Coming? : The Delay of the Parousia in the New Testament
by David L. Mathewson

The New Testament contains numerous statements by Jesus and New Testament authors that seem to suggest that Jesus was coming back soon, in their lifetime! But two thousand years later here we still are. How do we handle this apparent "failed prophecy"? Did Jesus and his followers get it wrong? Did they miscalculate the timing of Jesus' return? Or were Jesus and the authors of the New Testament anticipating something else? The purpose of this book is to examine this issue by looking in detail at the New Testament texts that seem to promise that Christ is coming back right away. It will provide a possible answer to these questions in light of the tension between the promised imminent return of Christ and its delay.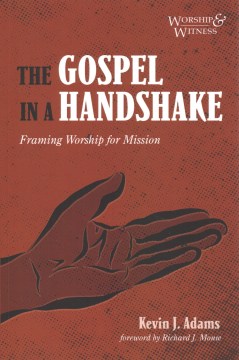 The Gospel in a Handshake : Framing Worship for Mission
by Kevin J. Adams

This book enables worship leaders to skilfully guide spiritual novices, sceptics, and Christian veterans to the grace embedded in the timeless liturgy. Offering winsome worship hospitality, these pages provide seasoned wisdom, often in the form of pithy introductions (Adams calls these "frames") that alert worshippers to the character and purpose of various service elements. Readers get the tools to create their own frames, informed by the church of all ages, and customised to their congregation and neighbourhood. This book will serve well anyone who wants to increase their missional worship IQ.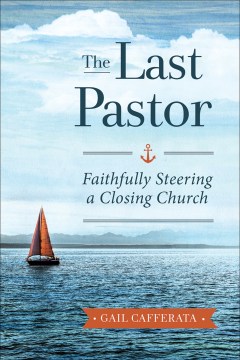 The last pastor : faithfully steering a closing church
by Gail Cafferata

Gail Cafferata was heartbroken when the church she pastored voted to close its doors. It may have been the right decision, but it led to a million questions in her mind about her call, leadership, and future. She began to think that other pastors who close churches perhaps go through this same experience. This led her to obtain a grant from the Louisville Institute to conduct a sociological study of over 130 pastors in five historically established denominations (Episcopal, Lutheran, United Methodist, Presbyterian, and United Church of Christ) who were called to serve churches that closed. This book tells the results of that study, which consisted of many interviews, and the hard-won lessons learned by these courageous pastors.



Reimagining mission from urban places : missional pastoral care
by Anna Ruddick

Reimagining Mission from Urban Places offers much needed reflection about the nature of mission and about expectations for missional outcomes. Using the stories of team members within the Eden Network (which emphasises an 'incarnational' approach to urban mission) the book demonstrates that at its best, mission happens in a shared life rather than being about 'us' telling the listening world.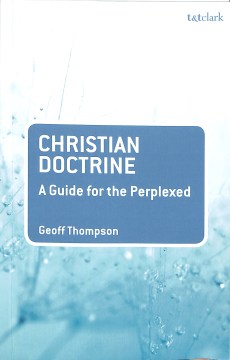 Christian doctrine : a guide for the perplexed
by Geoff Thompson

'Doctrine' is one of the heavier words in the Christian vocabulary and to understand doctrine raises a number of critical questions. What is the relationship between doctrine and the biblical witness? In what sense or senses can doctrine articulate truth claims? What are the ecclesial functions of doctrine? As discourse, what role does doctrine play in Christian discipleship? Is doctrine merely a social construct? And if it is, does this weaken its truth-claiming functions? If it does make truth claims,what is to be made of the diversity of doctrine across time and place? Geoff Thompson addresses all of these questions in an engaging narrative which starts by exploring the origins of doctrine in the various catechetical, polemical and apologetic pressures the church encountered as it sought to articulate and teach the faith confessed in Jesus Christ, crucified and risen.



Suffering and the Christian Life
by Karen Kilby

This volume approaches questions concerning the status and meaning of suffering in Christian life and Christian theology through the lens of a variety of theological disciplines – biblical, historical, practical, political and systematic theology. Scholars from this range of fields concentrate on a number of questions: Is love intrinsically linked with suffering? Are suffering and loss on some level fundamentally good? How is – and how should – suffering and diminishment be viewed in the Christian tradition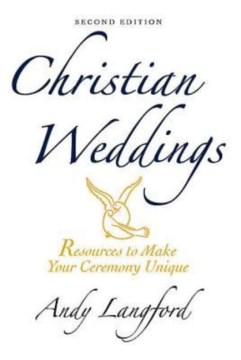 Christian weddings : resources to make your ceremony unique
by Andy Langford

This exciting resource will help engaged couples design a unique and meaningful wedding service. With guidance from their pastor, the couple can select the different elements of their wedding liturgy from a menu of choices in ceremonies from over twenty denominational traditions from around the world.



Essentials of Christian leadership
by Chris Palmer

Studies for church leaders in the essential biblical principles of Christian Leadership.
Written from the author's rich experience as a pastor and Bible school teacher, the book deals with the subjects of: Calling, Character, Vision, Commitment, Servanthood, Compassion, Courage, Communication, Teamwork, and the Christ-Centred life.



It's ok that you're not ok : meeting grief and loss in a culture that doesn't understand
by Megan Devine

In It's OK That You're Not OK, Megan Devine offers a profound new approach to both the experience of grief and the way we try to help others who have endured tragedy. Having experienced grief from both sides—as both a therapist and as a woman who witnessed the accidental drowning of her beloved partner—Megan writes with deep insight about the unspoken truths of loss, love, and healing. She debunks the culturally prescribed goal of returning to a normal, "happy" life, replacing it with a far healthier middle path, one that invites us to build a life alongside grief rather than seeking to overcome it.



Respectful LGBT Conversations : Seeking Truth, Giving Love, and Modeling Christian Unity
by Harold Heie

In stark contrast to the shrill and nasty interactions among many Christians regarding contentious LGBT issues, this book models a redemptive mode of engagement by featuring respectful conversations among deeply committed Christians who hold to diverging traditional and non-traditional views. The foundational values guiding these conversations are the quest for truth, giving the gift of love to all brothers and sisters in Christ, and modelling Christian unity. Emerging from these conversations are practical steps for a way forward that include creating safe spaces for ongoing conversation and practicing courageous Christian leadership. Based on case studies for a Christian university and two Christian churches, this book provides helpful advice for navigating conflict within churches, Christian denominations, and Christian educational institutions.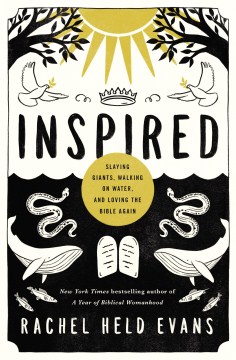 Inspired : slaying giants, walking on water, and loving the Bible again
by Rachel Held Evans

If the Bible isn't a science book or an instruction manual, then what is it? What do people mean when they say the Bible is inspired? When Rachel Held Evans found herself asking these questions, she began a quest to better understand what the Bible is and how it is meant to be read. What she discovered changed her—and it will change you too.
Drawing on the best in recent scholarship and using her well-honed literary expertise, Evans examines some of our favourite Bible stories and possible interpretations, retelling them through memoir, original poetry, short stories, soliloquies, and even a short screenplay. Undaunted by the Bible's most difficult passages, Evans wrestles through the process of doubting, imagining, and debating Scripture's mysteries. The Bible, she discovers, is not a static work but is a living, breathing, captivating, and confounding book that is able to equip us to join God's loving and redemptive work in the world.



Reading Philippians : A Theological Introduction
by Nijay K. Gupta

In this new introduction and guide to Paul's Letter to the Philippians, Nijay K. Gupta makes the background, messages, and theological importance of this text understandable and interesting to lay readers and students. Reading Philippians includes Gupta's own English translation of Philippians. In his discussion of the value and significance of this text for Christians today, he incorporates fascinating historical case studies, modern analogies from pop culture, and practical advice and exercises for Christian formation for today.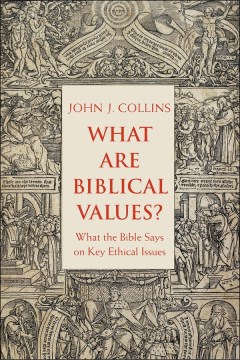 What are biblical values? : what the Bible says on key ethical issues
by John J. Collins

Many people today claim that their positions on various issues are grounded in biblical values, and they use scriptural passages to support their claims. But the Bible was written over the course of several hundred years and contains contradictory positions on many issues. The Bible seldom provides simple answers; it more often shows the complexity of moral problems. Can we really speak of "biblical values"?

In this eye-opening book, one of the world's leading biblical scholars argues that when we read the Bible with care, we are often surprised by what we find. Examining what the Bible actually says on a number of key themes, John Collins covers a vast array of topics, including the right to life, gender, the role of women, the environment, slavery and liberation, violence and zeal, and social justice. With clarity and authority, he invites us to dramatically re-imagine the basis for biblical ethics in the world today.



A Place at His Table : A Biblical Exploration of Faith, Sexuality, and the Kingdom of God
by Joel Hollier

Across the world, navigating the terrain of sexuality is becoming increasingly difficult. People on all sides of the discussion agree that so much is at stake, but how do we move forward? Into a confusing and often painful debate, A Place at His Table offers clarity, insight, and warmth. Holding firmly to the Bible, Joel Hollier leads us in a journey where we can re-examine traditional understandings, ask fresh questions, and enter a place of welcome for all people in God's church. Whether you are a leader, pastor, or congregation member who is seeking to love well, this timely book will equip you to enter the discussion in faithful, informed, and nuanced ways.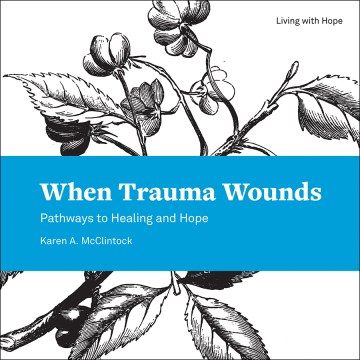 When Trauma Wounds : Pathways to Healing and Hope
by Karen A. McClintock

When trauma wounds, victims are thrown into unexpected darkness and experience unfamiliar symptoms. Some trauma survivors draw upon a lifelong faith in God; others find themselves in a wilderness devoid of spiritual grounding. The recovery stories in this book offer diverse pathways to faith and hope.
In When Trauma Wounds, psychologist Karen A. McClintock combines psychological approaches with faith resources to improve trauma recovery. Whether you are a trauma survivor, a caregiving pastor or church member, or friend to a survivor, this book will familiarise you with trauma symptoms and healing strategies.



The lost generation : understanding why young people leave the church and how to help them stay
by Laurence Singlehurst; Laura Hancock

As the rate of young people leaving church – and for some, faith itself – reaches crisis levels, how can youth workers, church leaders and parents alike learn from examples of good practice and reverse the decline? This two-part study examines the contemporary landscape of a generation growing up in a more connected and secular world than any before, then explores a wealth of material for implementing a curriculum-based approach to youth work



Creating intentional Christian communities : integrating models of urban mission
by Simon Cartwright

As the church re-imagines itself in a post-Christendom era to meet the challenges of mission in an increasingly multicultural and urban population, it faces similar questions to the Jewish exiles addressed by the prophet Jeremiah. This compelling study urges us to seek the shalom – peace – of the city, just as the exiles were called to do. It proposed a combination of chaplains, community development workers and pioneers seeking where God is at work and joining in, and forming new and authentic communities



How to…create atmosphere in worship
by John Leach

When we gather for worship, all the technical things might be in place – and yet there is still something not right with the 'atmosphere.' Why might that be? And what can we do about it? This fascinating and creative study explores the contested issues around this question. and reflects on the impact that the use of our senses can have on atmosphere, offering practical tips so that people might have the best opportunity to meet with God



Being ourselves and denying ourselves : losing and finding yourself as a Christian leader
by Richard Wyld

Christian leadership involves a paradox. Christ calls up to deny ourselves and yet ministerial vocations are increasingly shaped by the idea of being ourselves as God made us, and using our gifts and passions for the kingdom. This thought-provoking guide examines how this paradox connects us with the very gospel that underpins discipleship, leading to ministry that involves both bearing our cross and experiencing life in its fullness. It explores questions about day-to-day ordained ministry, about well-being in leadership, and about wise discernment in the life of the church
Anyone who is a part of the Uniting Church in Australia or a student at United Theological College is eligible to join the library and access our resources for free. If you are not yet a member and would like to join, please contact us on 02 8838 8940 or library@nswact.uca.org.au.

Camden Theological Library
Centre for Ministry
16 Masons Drive
North Parramata NSW 2151
61 2 8838 8940
https://nsw.ctl.stacksdiscovery.org/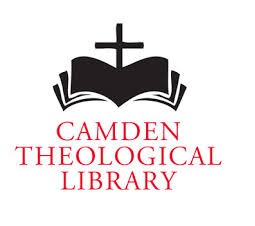 제공 = Camden Theological Library
크리스천라이프 편집부