Camden Theological Library
Library Aware June 2020
What's New

June 2020

New books for June 2020

Although we've been closed for a while we have still been keeping up to date with new books. Here is a selection of some of the new books we've added to our collection during the last couple of months. These books are now available for loan and are currently on display in the Library, near the circulation desk. Several of these books are highlighted below. A full listing of all new items can be viewed here.

Topical



God and the Pandemic : A Christian Reflection on the Coronavirus and Its Aftermath
by N. T. Wright

What are we supposed to think about the coronavirus crisis?
Some people think they know: 'This is a sign of the End,' they say. 'It's all predicted in the book of Revelation.'
Others disagree but are equally clear: 'This is a call to repent. God is judging the world and through this disease he's telling us to change.'
Some join in the chorus of blame and condemnation: 'It's the fault of the Chinese, the government, the World Health Organisation…'
Tom Wright examines these reactions to the virus and finds them wanting. Instead, he invites you to consider a different way of seeing and responding – a way that draws on the teachings and examples of scripture, and above all on the way of living, thinking and praying revealed to us by Jesus.



Spiritual Care in an Age of#blackLivesMatter : Examining the Spiritual and Prophetic Needs of African Americans in a Violent America
by Danielle J. Buhuro

This vital resource guide incorporates the basic understandings of spiritual care with the current social, emotional, existential and spiritual needs of African Americans simply surviving in Trump's violent America. It's one-of-a-kind, offering specific spiritual care strategies and interventions for African Americans dealing with particular physical, social and emotional health challenges in the midst of rising statistics of racism, sexism, classism, and homophobia leading to violence in the United States.
Intended for anyone in academia or the helping professions, this comprehensive work benefits those seeking to provide spiritual care to African American hospital patients, counselling clients, church congregants and parishioners, military veterans, or returning service members. The contributors to this anthology are experts in their respective fields who offer a new, refreshing, and energising perspective on important issues impacting African Americans.

Mission and Evangelism



The Agile Church : Spirit-Led Innovation in an Uncertain Age
by Dwight J. Zscheile

In today's dynamic cultural environment, churches have to be more than faithful–they have to be agile. That means embracing processes of trial, failure, and adaptation as they form Christian community with new neighbors. And that means a whole new way of being church.

Taking one page from the Bible and another from Silicon Valley, priest and scholar Dwight Zscheile brings theological insights together with cutting-edge thinking on organisational innovation to help churches flourish in a time of profound uncertainty and spiritual opportunity. Picking up where his recent bestseller, People of the Way left off, Zscheile answers urgent and practical questions around how churches become agile and adaptive to meet cultural change.




Including the stranger : foreigners in the former prophets
by David G. Firth

The Old Testament, particularly the Former Prophets, has been regarded as having a negative attitude towards foreigners. In this NSBT volume, David Firth argues that the Former Prophets subvert the exclusivist approach in order to show that the people of God are not defined by ethnicity but rather by their willingness to commit themselves to the purposes of Yahweh



Outgrowing church : if the law led us to Christ, to what is Christ leading us?
by John Killinger

Why are so many people drifting away from today's churches? John Killinger suggests that part of the problem is that they have personally outpaced the thinking and understanding of the church, so that they no longer find it adequate as a social structure for the celebration of their faith. In their attempts to find Jesus and his teachings relevant within the new culture, they strike out on their own or adhere to para-Christian organisations that retain an allegiance to Jesus without the baggage of the traditional institution. Killinger, a former big-steeple minister and theologian, describes how he himself has been forced essentially to abandon the church in order to remain faithful to the beliefs and ideals that first drew him into it.



Biblical Foundations for the Role of Healing in Evangelization
by Mathias D. Thelen

It's almost undeniable that God is working miracles of healing in evangelisation today. For theologians, pastors, and evangelists some questions arise: What is the relationship between physical healing and the message of salvation? Should the church really expect God to do healings in evangelisation today? Father Thelen answers these questions by examining the relationship between the preaching of the gospel and physical healing in the New Testament. The gospel of Jesus Christ is not simply a message of fact; it is a message of power that is often expressed through the working of deeds that serve as signs of the reality preached: salvation. As signs of the kingdom, healings that accompany the preaching of the gospel play an indispensable role in bringing people to faith throughout the New Testament. The result of this biblical study is a clarion call for the church to renew its faith in God's desire and power to confirm his word through healing.



The well-connected community : a networking approach to community development
by Alison Gilchrist

Since the publication of the first edition of The well-connected community there has been a growing recognition in practice and policy of how networks contribute to the vitality of community life and civil society. Government policy has increasingly emphasised the need to involve communities in decision making, while social capital is increasingly associated with health, low levels of crime, educational achievement and a strong 'sense of community'. The well-connected community aims to strengthen and extend informal networks, support partnership working across boundaries and promote social cohesion. It explores the concept of 'community' in relation to patterns of interaction, social identity and mutual influence, advocating a new model of community development that promotes networking as a skilled and strategic intervention and providing recommendations for good networking practice. This fully updated second edition includes new ideas drawn from recent research on social capital and the policy context for community practice, reflecting the increasing emphasis on community engagement and empowerment.

Pulse – Emerging Generations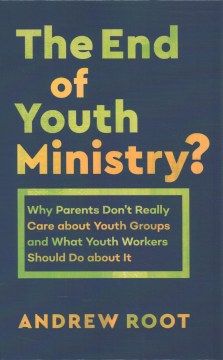 End of Youth Ministry? : Why Parents Don't Really Care About Youth Groups and What Youth Workers Should Do About It
by Andrew Root

What is youth ministry actually for? And does it have a future? Andrew Root, a leading scholar in youth ministry and practical theology, went on a one-year journey to answer these questions. In this book, Root weaves together an innovative first-person fictional narrative to diagnose the challenges facing the church today and to offer a new vision for youth ministry in the 21st century.

Informed by interviews that Root conducted with parents, this book explores how parents' perspectives of what constitutes a good life are affecting youth ministry. In today's culture, youth ministry can't compete with sports, test prep, and the myriad other activities in which young people participate. Through a unique parable-style story, Root offers a new way to think about the purpose of youth ministry: not happiness, but joy. Joy is a sense of experiencing the good. For youth ministry to be about joy, it must move beyond the youth group model and rework the assumptions of how identity and happiness are imagined by parents.



Meditation With Children : A Resource for Teachers and Parents
by Noel Keating

Children today are living in a fast-paced world where one solitary voice can easily get lost amid the din. Regular meditation helps children to relax, generate energy and confidence, become aware of their innate goodness and engage more compassionately with their peers. Meditation with Children: A Resource for Teachers and Parents is a helpful guide to Christian meditation for children. The book encourages adults to experience meditation for themselves and equips them with the tools to introduce the practice to children, including simple lesson plans that can be implemented at home, in the classroom or on a whole-school basis.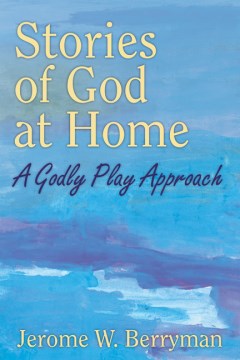 Stories of God at home : a godly play approach
by Jerome Berryman

A method for families to share the biblical story at home and learn the practice of sharing one another's stories as part of God's Story • Includes full colour images of the materials described in text Using Godly Play® methods, Jerome Berryman offers families a way of nourishing faith in the home while supporting children's spiritual growth through the practice of "storying," our most ancient way of making meaning. This book offers "storying" rituals and techniques from Godly Play for exploring the meaning of Christmas, Easter, Creation, the Parable of the Good Shepherd, Pentecost, and the Trinity to give sustenance to the family's flow, play, love, and spirituality. Stories of God at Home follows the rhythm of life's cycles (birth, death, earth, life, God, and depth) in telling biblical stories and shows how parents and caretakers can grasp their role with children using classic children's literature.

Leadership



Kingdom Stories : Telling, Leading, Discerning

by Vaughan S. Roberts

Stories are at the heart of how God's kingdom is revealed both in scripture and in contemporary church ministry. This volume draws on these kingdom stories to extend the conversation between practical theology and contemporary organisational studies.

Responding to the huge increase in interest in leadership and organisational theory as a means to understanding ministry, Vaughan S. Roberts shows how a more qualitative, story-led approach to thinking about leadership can offer a valuable perspective on ministry for both individuals and churches.



Bearing witness in hope : Christian engagement in challenging times
by Cathy Ross and Humphrey Southern

Has the Church lost sight of her original vocation of living out her mission by serving the world? There is a prevailing ecclesiology of fatalism which suggests that it has, and that there is nothing to do be done about. This book argues however, that the church still has a role in bearing witness fruitfully and creatively even within a context of crisis. Leading thinkers offer theoretical, contextual and practical responses to encourage a renewed love for the church and renewed energy to bear witness appropriately and creatively.

Discipleship



Faithful Witness in a Fractured World : Models for an Authentic Christian Life
by Nicole L. Johnson

Christians have always looked to models within the Christian faith to guide their lives. At a time when the church is more identifiable by ugly partisan politics–what we call "crappy Christianity"–than by compassionate neighbour love, this book highlights the lives and work of seven individuals who are pursuing their Christian calling in humility and profound love for and service to others, this book highlights the lives and work of seven individuals who are pursuing their Christian calling in humility and profound love for and service to others. Their commitments have led to vocations in working with homeless women, employing refugees, lobbying on Capitol Hill for environmental protection, healing trauma in urban communities, peacemaking in Israel-Palestine, advocating for immigrants, and walking alongside people in addiction recovery. Their individual and collective witness offer compelling examples of authentic Christian life, which is marked in part by active, embodied faith in pursuit of the common good; a broad and inclusive love for all people; rightly ordered political identities and loyalties; and a commitment to work toward holistic redemption of both people and the systems that constitute our life together. In contrast to much of contemporary American Christianity, these models of faith demonstrate that Christians should focus much more on what we are for rather than what we are against.



But what about God's wrath? : the compelling love story of divine anger
by Kevin Paul Kinghorn

"How can a loving God also be a God of wrath? Using a philosophically informed line of argument and a careful study of the relevant biblical texts, Kinghorn and Travis show how these two aspects of God's character can be reconciled. Instead of assuming that God's just response to people is incompatible with a loving response, the authors instead view God's love as a strictly essential divine attribute, with justice as a derivative of love"



Forgetting the Former Things : Brain Injury's Invitation to Vulnerability and Faith
by Tamara Puffer

In August 1996 Tamara Puffer was a young, newly married violinist-turned-pastor serving a large suburban church. Her growing work with people living on Atlanta's streets was beginning to reshape her theology and her calling, but a serious car accident derailed her carefully planned career path. Forgetting the Former Things is a rare tapestry of first-person faith journey woven with gritty theological reflection and persistent hope. Puffer writes honestly, poignantly, and often humorously about her efforts to accept limitations and to re-imagine her life under radically altered circumstances. She finds solace in the stories of biblical women as she also wrestles with negative images of disability in Scripture. She embraces her self-described role as a "minister of vulnerability" in this troubling national moment–as jobs, healthcare, and affordable housing are evaporating for so many, as countless people feel terrorised by discrimination or the threat of deportation–boldly casting her lot with others whose marginalisation cuts deeper. At a time when traumatic brain injury is in the national spotlight, and many families, churches, and communities seek deeper understanding, Tamara Puffer provides in these pages an insightful, inspiring, and much-needed gift.



Worship Like Jesus : A Guide for Every Follower
by Constance M. Cherry

Worship in local churches has changed dramatically over the past fifty years, not only in North America but in many places on every continent. Have these widespread and varying shifts left us with vague or even false impressions of what the weekly worship event is all about? Do followers of Jesus Christ grasp the importance of their role in worship? Do they know how to become fully engaged participants? Do they realise Jesus himself is our best guide and model for worship?
Worship Like Jesus guides Christ-followers through the essential features of Christian worship, transforming the reader's understanding and experience of worship. This leads people—even entire congregations—to experience worship in exciting and profound ways as never before. This type of worship also leads people into deeper and more committed discipleship. Imagine a community of fully engaged, deeply committed disciples!



The heart's time : a poem a day for Lent and Easter
by Janet Morley

A day by day Lent book aimed at the individual reader, in which a poem appropriate to the themes of the season is read, along with a short reflection from the editor and a couple of questions to ponder. The purpose is to use a poetic text as the basis for 'slow reflection' during Lent and Eastertide.



Finding Ourselves Lost : Ministry in the Age of Overwhelm
by Robert C. Dykstra

This book wrestles with quandaries of pastoral ministry in what psychotherapist Mary Pipher calls "the age of overwhelm." Drawing especially from the wisdom of Jesus' own teaching and healing ministries as portrayed in the Gospel of Luke, it offers an intimate narrative introduction to pastoral theology for guiding bewildering tasks of pastoral care and counselling. These essays encourage seminarians and ministers to embrace their role as agents of healing by exploring their own debilitating shame and daring to speak what in childhood could not be spoken; by revealing their discoveries to a trusted confidant so as to feel less loathsome or lonely; by attending to even minute individual differences, in self and others, that fuel social isolation; and by believing in those persons who first believed in them.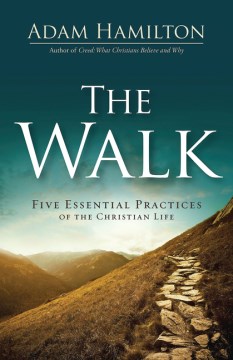 The Walk : Five Essential Practices of the Christian Life
by Adam Hamilton

How do we walk with Christ—daily follow him, grow in him, and faithfully serve him? In the Gospels, Jesus modeled for us the Christian spiritual life. The apostles taught it in their writings. And the Church has, through the last 2,000 years, sought to pursue this Christian spiritual life.
In The Walk, Adam Hamilton focuses on five essential spiritual practices that are rooted in Jesus' own walk with God and taught throughout the New Testament. Each of these practices is intended as part of our daily walk with Christ while also being an essential part of growing together in the church.



A turning to God
by Basil Hume

The title comes from Cardinal Hume's homily for Ash Wednesday 1977 and is a theme that reappears frequently in his writing and preaching, particularly in his Lenten addresses. This selection of previously unpublished material by Basil Hume takes the reader through Lent, from Ash Wednesday to Easter Sunday, with a reading for each day, a reading from the Lectionary and a prayer based on the liturgical texts.

Other Topics



Darkness is my only companion : a Christian response to mental illness
by Kathryn Greene-McCreight

Where is God in the suffering of a mentally ill person? What happens to the soul when the mind is ill? How are Christians to respond in the face of mental illness? In Darkness Is My Only Companion, Kathryn Greene-McCreight confronts these difficult questions raised by her own mental illness–bi-polar disorder.
With brutal honesty, she tackles often avoided topics such as suicide, mental hospitals, and electroconvulsive therapy. Greene-McCreight offers the reader everything from poignant and raw glimpses into the mind of a mentally ill person to practical and forthright advice for their friends, family, and clergy. Her voice is a comfort to those who suffer from mental illness and an invaluable resource for those who love and support them.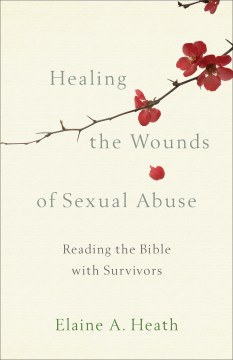 Healing the Wounds of Sexual Abuse : Reading the Bible With Survivors
by Elaine A. Heath

This accessibly written book illuminates the good news of healing and liberation the Bible offers survivors of sexual abuse. As an expert in pastoral ministry and a survivor of abuse herself, Elaine Heath handles this sensitive topic with compassion and grace. The book is illustrated with stories and insights from survivors, and each chapter ends with reflection questions and recommended activities. Previously published as We Were the Least of These, this repackaged edition includes a new contextualised introduction that explores how the book speaks into a vital cultural conversation (#MeToo).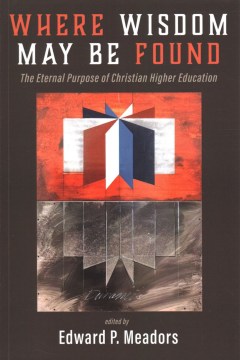 Where Wisdom May Be Found : The Eternal Purpose of Christian Higher Education
by Edward P. Meadors

All Christian colleges and universities hail the integration of faith and learning as a premier mission objective. There is less agreement as to what the integration of faith and learning should look like in pedagogical and cross-disciplinary terms. This volume proposes that faith and learning are interrelated from the start. Discovery of truth within the academic disciplines cultivates discipline-specific wisdom that both accords with all reality and complements the whole counsel of God. Where Wisdom May Be Found brings together a faculty of twenty-seven accomplished voices from across curricula to celebrate each field's capacity for revealing wisdom from all corners of God's creative design. In synthesis, these voices declare the depth and richness of the wisdom and knowledge of God for the educational advancement and holistic equipping of the corporate people of God.



Deep time dreaming : uncovering ancient Australia
by Billy Griffiths

People would have known about Australia before they saw it. Smoke billowing above the sea spoke of a land that lay beyond the horizon. A dense cloud of migrating birds may have pointed the way. But the first Australians were voyaging into the unknown. Soon after Billy Griffiths joins his first archaeological dig as camp manager and cook, he is hooked. Equipped with a historian's inquiring mind, he embarks on a journey through time, seeking to understand the extraordinary deep history of the Australian continent. Deep Time Dreaming is the passionate product of that journey. It investigates a twin revolution: the reassertion of Aboriginal identity in the second half of the twentieth century, and the uncovering of the traces of ancient Australia. It explores what it means to live in a place of great antiquity, with its complex questions of ownership and belonging. It is about a slow shift in national consciousness: the deep time dreaming that has changed the way many of us relate to this continent and its enduring, dynamic human history.



Knowledge of life : aboriginal and Torres Strait Islander Australia
by Kaye Price

Knowledge of Life is the first textbook to provide students with a comprehensive guide to Aboriginal and Torres Strait Islander Australia. The result of extensive research and experience, it offers fresh insights into a range of topics and, most importantly, is written by Aboriginal and Torres Strait Islander academics. It addresses topics ranging from history and reconciliation, to literature and politics, to art, sport and health. It presents social, cultural and political perspectives on these areas in a manner that is accessible to undergraduate students from a range of backgrounds and academic disciplines. Each chapter opens with a precis of the author's journey to engage students and offer them an insight into the author's experiences. These authentic voices encourage students to think about the wider issues surrounding each chapter and their real-life implications. This timely publication emphasises the importance of relationships between non-Indigenous and Aboriginal and Torres Strait Islander cultures.



T&T Clark Handbook of Christian Theology and Climate Change
by Ernst M. Conradie

The T&T Clark Handbook of Christian Theology and Climate Change entails a wide-ranging conversation between Christian theology and various other discourses on climate change. Given the far-reaching complicity of "North Atlantic Christianity" in anthropogenic climate change, the question is whether it can still collaborate with and contribute to ongoing mitigation and adaptation efforts. The main essays in this volume are written by leading scholars from within North Atlantic Christianity and addressed primarily to readers in the same context; these essays are critically engaged by respondents situated in other geographic regions, minority communities, non-Christian traditions, or non-theological disciplines.
Structured in seven main parts, the handbook explores: 1) the need for collaboration with disciplines outside of Christian theology to address climate change; 2) the need to find common moral ground for such collaboration; 3) the difficulties posed by collaborating with other Christian traditions from within; 4) the questions that emerge from such collaboration for understanding the story of God's work; and 5) God's identity and character; 6) the implications of such collaboration for ecclesial praxis; and 7) concluding reflections examining whether this volume does justice to issues of race, gender, class, other animals, religious diversity, geographical divides and carbon mitigation.
This rich ecumenical, cross-cultural conversation provides a comprehensive and in-depth engagement with the theological and moral challenges raised by anthropogenic climate change.
Anyone who is a part of the Uniting Church in Australia or a student at United Theological College is eligible to join the library and access our resources for free. If you are not yet a member and would like to join, please contact us on 02 8838 8940 or library@nswact.uca.org.au.

Camden Theological Library
Centre for Ministry
16 Masons Drive
North Parramata NSW 2151
61 2 8838 8940
https://nsw.ctl.stacksdiscovery.org/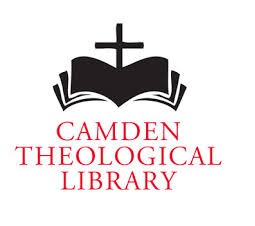 제공 = Camden Theological Library
크리스천라이프 편집부